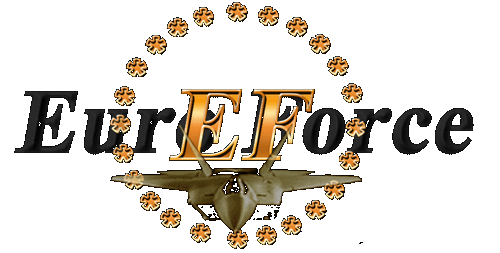 Once upon a time, there came a game called "F22-Raptor" which was developed by NovaLogic and all those freeky home-pilots ran to the shops and bought the game, without even knowing that you could also use it in the Internet or perhaps just thought: "Well, that could turn out as a nice feature...".
So after playing the game at home for hours and hours and hours and getting through the missions with no problems, it was time to check that Internet-Stuff... So here we came, got connected with our 14.400kbps-Modem and found out first: "Damn, my modem is too slow even just to get the Update of 270KByte!!!". Well, after the download we all got the link to NovaWorld and joined RAW1 as the usual "BULLDOG"... hehehehehe, what a jam!!! All of a sudden, we all got chased by numereos fighters, ourselves not knowing what was hitting us... and all those nice colorful callsigns on the players-list... how did they do that??? Well about 1 hour later (phone-bill??? Don't care about that now...) some nice guys let us know how to change callsign and even the colors. Well, all of a sudden, we weren't a stranger anymore and we found out that even several squadrons have been made up all over the world (well, mainly in the US...).
After a few days online (about $150 on phone-bill) we got to know some of the guys and found them very helpful and forever asking: "You wanna join a squad???", "Hey, still no squad?? How about us??", "Anyone wanna join XX-Squadron???"... Well, and soon after, we all were members of all different squads. And all of us thought: "Well, this squad I am in, is the best!!!". Sure, wherever I lay my hat is my home!
Times went on, wars were fought, trainings have been scheduled and followed, meetings have been made up and things were discussed. But the main thing that was uncomfortable, were the late-late-late nights... Wars were held at 21:00EST or even 21:00WST... that meant staying up until 03:00GMT or even 06:00GMT... Wife is calling us "insane" to go on with those things every weekend... children watching us still on the computer while they were getting ready for school...
This had to come to an end!!! We need a squadron, where all members can come and have fun at normal, reasonable times!!! Now this is, where Pebbles*GR* and myself (StarFighter*GR*) thought: Well, let's make up a Euro-Wing of the Grim-Reapers!!! Things went on and on and on, and in the end we were 4 (yes, only 4) from europe in a squad containing more than 24 pilots! Things were getting out of hand at the same time in the Grim-Reapers-Squadron so Pebbles and I decided to take the dedication and time to form something here at "the other world" (a Squad-Name-Suggestion by: Rancid). Lots of phone-calls went on, plenty of chats and plenty of searches for members who felt the same way... This all started at the middle of September 1998.
Within 3 weeks of hard work and not knowing how it will turn out, we had a team made up by 10 members and decided to get public as the "Euro-Force" at Hooks Forum exactly on the 7th October 1998.

The Euro-Force is (as the name shows) a squadron whose members are mainly from the "Other Side Of The Pond" and our primary goal is to have FUN and learn new strategies at reasonable european times. We use the callsign "=EF=" in yellow colors. The squad is limited to 15 members (exceptions for outstanding newcomers are possible but should not be intended) and we do NOT mind, if a member of this squadron also is an active member of another force as long as the other squadron agrees to that membership!
We have NO ranks. There are, however, Squadron-Leaders (at the time StarFighter and Pebbles) who founded the squadron together with Uridium and Dr.Stupid. The Squadron-Leaders are held responsible for scheduling wars, trainings and meetings. This includes making sure there is a server available for training, keep all members informed about upcoming events, enrole to open tournaments, introduce and help new prospects to the squadron, make sure there are enough guyz available for wars. Decisions beside that should be taken in consence, finally a vote would be called on severe issues.
To become and stay an =EF=-Member you need to:
Live in a Euro-Zone (which is in between +2 and -2 hours CET)
Be able to comunicate in english
Be able and available to play late at night (up to 2AM if necessary on weekends)
Behave well and respect others (especially when flying with =EF=)
Have at least intermediate flying skills
Abide VET-Rules of flying and do NOT cheat
We play Novalogic's F22 Lightning 3 at the moment, also on few occasions F22-Raptor. We train regulary on Thursday at 20:00CET and Sunday at 20:00CET. Our target is to have at least an average of one war/scrimmage per week and we will attend most of the tournaments.
Attendance for trainings and wars will be tracked - showing up never or occasionally at trainings, not informing the squad when longer absent and not reply to "Call to Arms" will force the risk of being elected out...
(this COC is in effect as of the 7th October 1998)
modifications made on 03rd August 1999